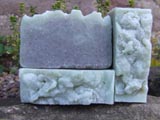 A collection of blogs from our soapy, lotiony, potiony members....
Rose Cottage Balms And Soap Blog
All about what I make, and what works and what doesnt! Pictures and entries about daily life as a single mum running her own business from home and the ups and downs therein!...
Soaperstar
I'm Celine Blacow and I make handcrafted soaps, lotions, body butters and bath melts. For now, they're just for me but I'm interested in maybe starting a business selling these goods - mostly because I think they're really good!!!
LCR Soap Company
A (somewhat infrequent) look at what I have been up to in the world of soapmaking and formulating beauty products.
Maia Skin Care Blog
Maia All Natural Beauty Blog, for natural beauty tips, talk and news, a peek behind the scenes at Maia Skin Care and a few mild rantings every now and then!
Purple Sparkle Blog
The thoughts, ideas and inspirations of Purpley, candlemaker, soaper, crafter and shopaholic! I also feature the work of other independent designers.

Hippy News
Ramblings of a Hippy wannabe or shuddabin. Lots of mad ramblings about this and that.
Akua Wood's Blog
Life in the Wood household/the thoughts of a nearly middle-aged mother who wants to let off a bit of steam after a long day running around like a headless chicken.

Herb Jar
Information about natural skin care and how one can get beyond the marketing hype and identify the truly natural products.