Mango Butter – Mangifera indica (refined)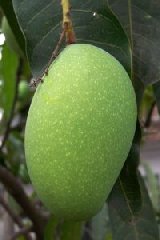 The mango is known as the 'apple of the tropics'. It is native to Asia but also Southern California. This rich, exotic butter is cold pressed from the seed kernel of the mango fruit. Its high content of stearic acid gives it similar properties to cocoa butter and it is rich in beta carotene and vitamins A and E. It is highly moisturising and has excellent softening and regenerative properties.
It is thought be protective against UV rays. It is claimed that mango butter can help to reduce the degeneration of the skin's cells and help to restore elasticity, so would make an excellent ingredient in products for mature skins.
Mango butter is extremely emollient, providing excellent moisturisation. It is wonderful to use in creams, balms and lotions for dry skins. Used alone, it is thought to provide relief from the dryness associated with psoriasis and eczema.
Mango butter is fairly hard at room temperature but melts readily on skin contact, so a good addition to lip balm and lotion bar formulations. It is often used in cream formulations and is a wonderful addition to soaps. It can also be used to replace paraffin-based emollients in formulations. Use between 3-100% in formulations and store in a cool dark place.